Background
Freedom College an initiative by Nidahas Vidyalaya is a non-profit social venture: to address the financial, cultural, geographical, political or personal constraints related to education. We are currently providing non-accredited and self-paced free online courses with a Certificate of Achievement. These courses are currently provided in English and we have future plans to offer in Sinhala / Tamil. The students on completion of these free online courses could request for Proctored Exams (students will be monitored when taking the exams either in person or remotely), Verified Certificates (will be issued only for students passing the exam) can be verified online using our website, Live Mentoring (students will be linked to an educator who will be teaching them online) and Alumni Membership (all students who have purchased a value added service or funded the initiative) for a small fee in order to keep this initiative sustainable. This would also provide them the opportunity to prove that they were not impersonated, and the certificate has been genuinely acquired through an examination similar to a traditional college.

Our achievements include but not limited to ORAP partnership with edX, permitted course materials from Saylor Foundation, Startup SL registration, startup event participations etc.

Typical Scenarios:

Visit the link: https://www.youtube.com/watch?v=eW0f_yFEED0
Project
We have decided to seek crowd-funding so that we could acquire a better domain and hosting services which would help us to build an online college similar to the University of the People with some improvisation and a Sri Lankan touch. All other costs would be borne from ourside. This would help us to build international partnerships with tuition-free universities and attract an international student base. Our proposed discussion module would allow students from diverse backgrounds to interact academically with each other. Our signature programme would be a Higher Diploma in Business Administration an actual 2 year Associate Degree programme offered in the United States. We are working towards getting exemptions for this programme from other accredited colleges as we are not currently accredited. The students will not be charged for tuition but only for value added services like Proctored Exams, Verified Certificates, Live Mentoring, Alumni membership etc.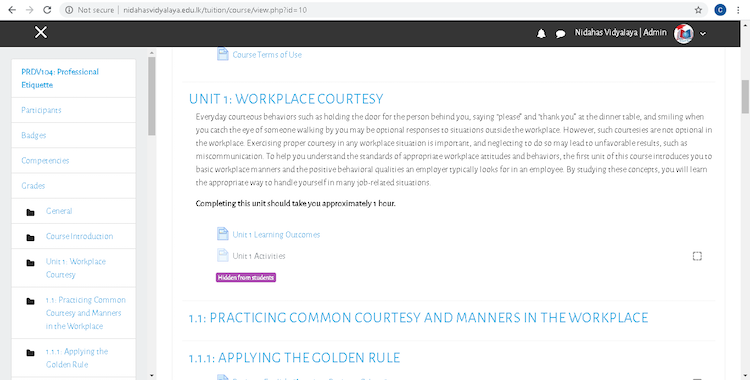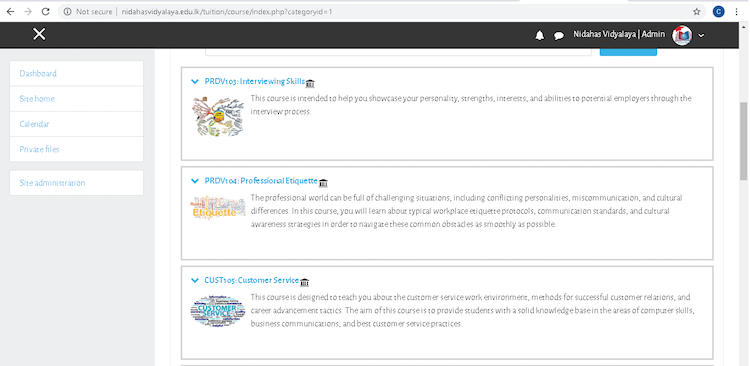 Budget
| Item | QTY | Price LKR | Timeline |
| --- | --- | --- | --- |
| New Domain (.EDU) & Hosting for 3 – 5 | | | |
| Years (Suitable for a LMS. Depends on capacity) | 1 | 32,000 | June 2020 |
| Total | | 32,000 | |
Timeline
Prototype is already running and with the required funds we could launch the new site and offer our signature programme in June 2020.
Contact details for further inquiries –
Name M. J. M. Rifai
Phone +94 77 8960447
Website http://nidahasvidyalaya.edu.lk/tuition
Email info@nidahasvidyalaya.edu.lk
Facebook https://facebook.com/nidahasvidyalaya.edu.lk
Twitter http://twitter.com/NVidyalaya
SMS Alerts Type F NVidyalaya and Send to 40404