Dry ration packs donation project for low income families in Rambukkana Divisional Secretariat.
Colombo Night Run (CNR) is a not-for-profit running community based in Colombo. Our community consists of runners from around the world, from beginners to well experienced marathon runners. You can visit https://www.colombonightrun.com/ for more information about us.
Background
With the imposing of curfew to curb the spread of COVID-19, many daily wage earning families around the country have lost their livelihoods. Even though the curfew has got lifted in low-risk areas around the country, many families are still struggling to find work. During these difficult times, as a community, CNR aspires to lend a small hand to at least a few families who are struggling without any means of earning a living.
Project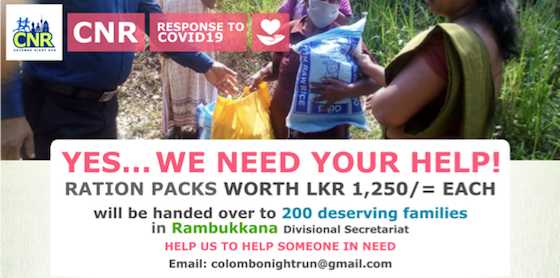 With the support of the Assistant Secretary for the Divisional Secretariat (DS) of Rambukkana, we have identified 200 families who are struggling to meet even their daily nourishment needs. We have picked Rabukkana DS since: 1). When queried we learnt that Rambukkana DS has many families who are struggling to meet their daily nourishment needs, and this DS has barely received any assistance to date 2). One of our runners resides in Rambukkana DS and she is able to personally supervise the donations distribution process to ensure that the donated rations are received by the most deserving.

Rambukkana DS, which is one of the 11 divisional secretariats in the Kegalle district, has a population of around 83,000 people. A vast majority of the families depend on agriculture or ad-hoc jobs to earn their living. With the imposition of curfews for over a month, the resultant economic downturn has led to many families struggling to find work. The delay in rains in the area and the prevalence of monkeys and other wild animals destroying agricultural crops has added on to the woes of the farming community. As such, many families in the area are struggling to even meet their daily nourishment needs.

Whilst our contributions may not help to sustain these families over a long term period, if we can at least help them obtain a few meals, we believe that it would make a significant difference in their lives. This will mean that the families have at least one less day to stress about how to make ends meet.

"It is not how much we give but how much love we put into giving" - Mother Theresa
As the largest night running community out there, we want to lead the way and at least make a small difference in the lives of those in need.

This project will not be successful without the help of our runners and their network. Therefore, kindly help us to help someone who needs our help.

We have estimated a cost of Rs. 250,000 to support 200 families by distributing a ration pack worth Rs. 1,250 to each family. The ration pack will consist of:

Rice - 5kg
Salt - 400g
Dhal - 2kg
Soya meat (TVP) - 500g
Tea - 100g
Big onions - 1kg
Chili powder -100g
Sugar - 500g
Contact details for further inquiries –
Phone +947773088109
Email colombonightrun@gmail.com
Website www.colombonightrun.com



Bank Details

Name of Account – Tribefunds (Private) Limited
Account Details – 100020001365, Nations Trust Bank, Colombo 3, Sri Lanka
Deposit Reference – "CNR - {Your Name}"
Swift Code - NTBCLKLX

International payments can be made only via SWIFT transfers